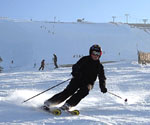 Skiing in Scotland...
Scotland's ski season is on anywhere from December to April. Scotland offers both downhill and cross-country skiing.
There are five major ski centres, Glenshee, White Corries (Glencoe), the Nevis Range, the Lecht and Cairngorm. White Corries has the steepest runs, and The Lecht has the gentlest slopes. The website ski.visitscotland.com will give you updates on the current weather conditions - which vary! - piste maps, and a wealth of information about ski-instruction, hiring equipment, accommodation, travel and much more.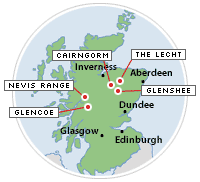 You can rent equipment for the day -on the spot- and buy a day pass to the slopes. If you need lessons, however, it is a good idea to book in advance. Once again, the website ski.visitscotland.com offers information about weekend packages including instruction, for adults and children. Always keep an eye on the weather and then if the conditions are right...just go! You will find it an exhilarating experience!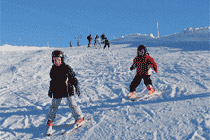 Children really enjoy learning! Some of the slopes are gentle enough to practice on..

Snowboarding is also very popular in Scotland..If you need advice about boards, and the proper snowboarding clothing the website www.scottishsport.co.uk has all the information a snowboarder could ever need!