Dundee, the City Of Discovery and Scott of the Antarctic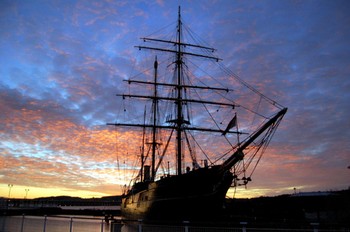 RRS Discovery - The Ship of Scott's Expedition to the Antarctic

Dundee today is known as the City of Discovery, in honour of Dundee's history of scientific activities and of the Royal Research Ship Discovery, Robert Falcon Scott's Antarctic exploration vessel, which was built in Dundee and is now proudly berthed in the city harbour.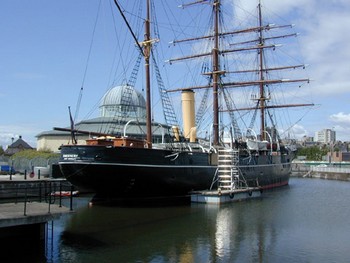 RRS Discovery - Point Discovery, Dundee

Launched on 21 March 1901 and designed for Antarctic research, Discovery's first mission was the expedition that carried Scott and Shackleton on their first successful visit to the Antarctic known as the Discovery Expedition. Leaving the coast of the Isle of Wight on 6th August 1901 she first sighted the Antarctic coast on 8th January 1902. She was locked in ice at McMurdo sound for the next 2 years, after determining that Anarctica was a continent and relocating the Southern Magnetic Pole. She finally arrived home September 1904.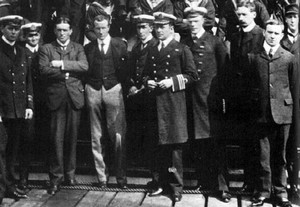 Scott and the Crew of the Discovery

Since then Discovery has been a cargo vessel, carried munitions in World War 1, and supplies to the White Russians in 1917. In 1932 Discovery carried a crew who studied migration patterns of whales in the South Seas. She was saved by the Maritime Trust in 1979 and in 1986 returned to Dundee - the town that built her and where she now permanently resides, in a custom built dock now called Discovery Point.
The historic ship is reason enough to visit Dundee, but there is more... also in the city harbour is Her Majesty's Frigate Unicorn..looking like she came straight out of a movie..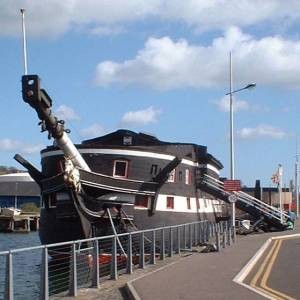 This historic warship was never used in active service and is a survivior of the transitional period between traditional wooden sailing ships and the iron steamship. She is beautifully preserved and open to the public. The Unicorn was launched in 1824.
Part of Dundee's charm is its location. It is only 20 miles from Perth, (and the drive there is really picturesque), St. Andrews is 14 miles away (across the bridge) and Dundee is surrounded by the Sidlaw Hills, the Angus glens and of course, Glamis Castle. If you include Monifieth, Blairgowrie and surrounds, its population is about 170,000.
Dundee was famous for three things that as I child I found easy to remember - jute, jam and journalism, but of course there's a lot more to Dundee than that, and the so-called "jam" is actually marmalade which was supposedly invented by Janet Keiller in 1679. Keiller's marmalade is now a famous brand, exported worldwide.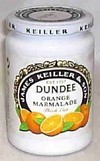 Famous Keillers' Marmalade


Dundee is the fourth largest city in Scotland, situated on the north bank of the Firth of Tay.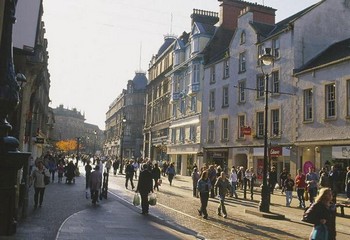 Picts lived on the site of what is now Dundee during the Iron Age and many battles were fought there in Medieval days. During Robert the Bruce's time Dundee was a walled city. In 1547 an English naval bombardment destroyed a great deal of it, and General Monck invaded Dundee in 1651 under the command of Oliver Cromwell.
It was also home to John Graham of Claverhouse, and there is still a district of Dundee called Claverhouse. 1st Viscount Dundee, who raised the Stewart standard on the Law Hill in 1689 support of James VII and the Jacobite cause had the nickname of Bonnie Dundee.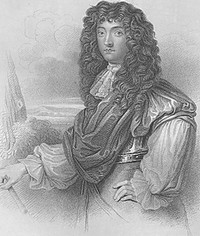 1st Viscount Dundee, nicknamed "Bonnie Dundee"

The city surrounds the 571 foot high Law Hill, the basalt plug of an ancient volcano. Dundee was once home to the world's longest railway bridge which was destroyed the year after it was built in 1880. During a storm the bridge collapsed taking the train that was crossing it into the river. Not a single passenger survived.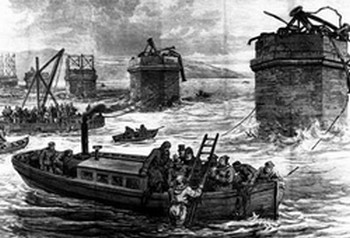 Tay Bridge disaster

Nowadays there is a road bridge which will carry you across to Fife in no time...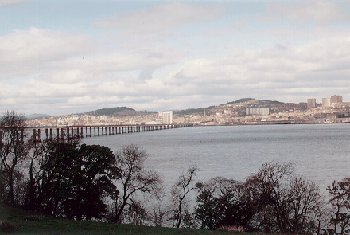 Dundee as seen from Fife


During the industrial revolution the production of jute provided employment for thousands, and its place on the estuary provided a perfect spot for import from India. There was also a thriving whaling industry in Dundee. Nowadays the industry has been relegated to a museum..(I remember staring with awe at the gigantic whale skeletons as a child), for which whale lovers everywhere should rejoice.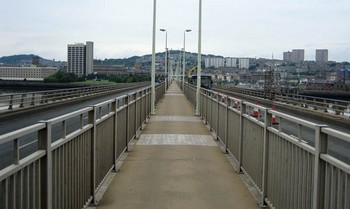 Modern Tay Road Bridge looking towards the Law Hill


In those days though whale oil assisted in the production of jute which helped the city to thrive, along with shipbuilding and journalism. Publisher D.C. Thomson, founded in 1905, was and still is, a major employer in the city producing The Sunday Post, The Courier the Beano, Dandy for children among other publications. Some of our favourites such as "Bunty" and "Jackie" are sadly no longer produced...ah well...
The jute industry is now in decline as jute is processed in India, but Dundee has adapted with the times and since the 1980's the digital entertainment, biomedical and technological are the thriving industries. Dundee has two universities, the University of Dundee and the University of Abertay Dundee.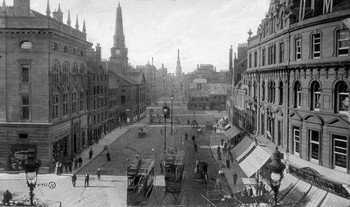 Old Dundee


Dundee still retains much of its past...the cobbled streets with tracks for the trams are still there..
The Caird Hall in Dundee's City Square often plays host to the Royal Scottish National Orchestra amongst many other venues. Dundee also has a thriving Repertory Theatre.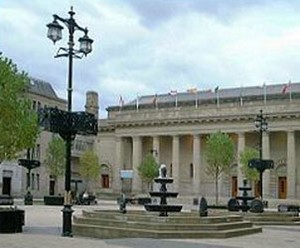 City Square


The Dundonians, as they are called, are an interesting group of people, and if you are from far away, you very likely won't be able to understand them! Their accent has delicately been described as "quite distinct". For an amusing discussion of the accent go to www.dundonianforbeginners.co.uk. This will certainly help you to translate. Remember to read the words just as they are written and you too will be able to "speak Dundonian"!
As I mentioned on my home page, I grew up in Broughty Ferry, which is almost part of Dundee, but not quite... It's probably about a twenty minute bus ride away. Broughty Ferry is a quiet little place, and of course has a castle.. It has a really nice beach front, and although it is not exactly tropical, you can swim there in the summer, and there are some cosy bed and breakfasts to welcome visitors who like to stay outside the city...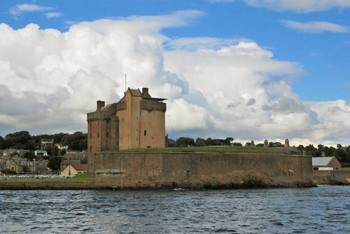 Broughty Castle

Broughty Castle is open to the public. Down below is a picture of the Castle from another angle..The water looks a little chilly, but we were happy to swim there, and the sand is perfect for sand castle making..believe me, I became an expert! Occasionally you can see seals on the sandbanks, always away from the shore though....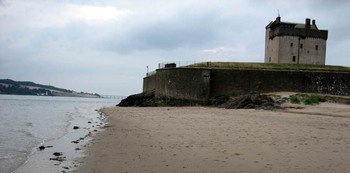 As a footnote, I'd like to mention that below is a picture of Grove Academy in Broughty Ferry, the school I attended...many fond memories in that building!
Also, for any alumni, you may be interested to know that the old school has not been used as a school for about three years now, and they are building a new one..sort of sad..but that's progress for you!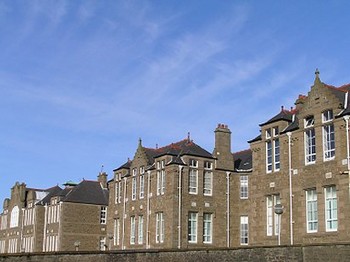 Grove Academy, Broughty Ferry



Return to Home Page