Scotland Can Accommodate You Personally!
Whatever your tastes in accommodation....Scotland has something just right for you. 
Whatever reason brings you to Scotland... business, pleasure, vacation, honeymoon, adventure..there is always the perfect place to stay. If you need help booking accommodation try www.visitscotland.com/accommodation, as they can help you find the right place to stay anywhere in Scotland.
For renting a furnished holiday home try  www.uniquescotland.com or www.highlandhideaways.co.uk.  The Landmark Trust restores  historic buildings and rents them out as accommodation, so also try www.landmarktrust.org.uk. 
If you seek luxury and romance in a royal setting, a castle is the place for you... (more about castles)
If you would like to experience the culture of Scotland and live amongst the Scottish people in a friendly setting..
there is the convenient Bed and Breakfast.....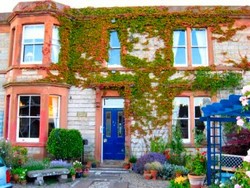 For those folks who simply want to be alone, or alone together ...how about a cottage?
...…like this one on Rannoch Moor....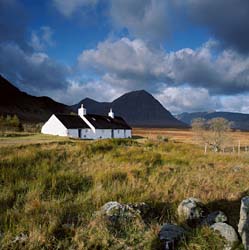 Self-catering log cabins can be found in scenic places all over Scotland..for freedom from routine, maybe Scotland's lodges and log cabins are right for you...
more about self-catering and log cabins...
For fun outdoors especially with a family..a caravan is a place where you can be comfortable and still enjoy the beautiful scenery....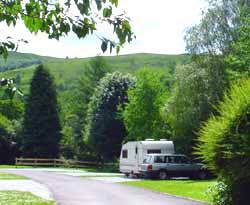 And for the adventurous..it must be camping in the wilderness!