Have You Ever Wondered What a Vacation in a Castle in Scotland Would Be Like?
In
Scotland
you can experience that magic! Castles are places of endless fascination..
Secret rooms
, endless winding corridors, baronial halls, vast glowing fireplaces, mysterious paintings of ancestors on the walls,
ghostly presences,
spiral staircases..
Growing up there I visited countless castles..

Scotland has....
3000 castles


magnificent mountains and ancient volcanoes


the largest wilderness area in Europe


the best cultural festival of the arts in its capital city Edinburgh


skiing- golf -horse riding -sailing -whale-watching -snowboarding
and this is just a start!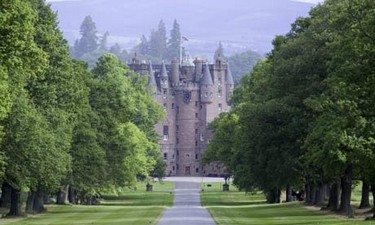 It has also been
inhabited for 6,000 years..at least!


the inspiration for writers and poets..


such as Robert Louis Stevenson, who wrote "Treasure Island"


J.M. Barrie who created "Peter Pan" and many others
and of course "Harry Potter" fans the world over already know where "Hogwarts" is!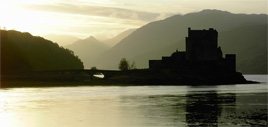 Scotland currently is

the favourite vacation home of the current British Royal family...
I had a magical childhood growing up in Broughty Ferry... No, you probably won't find it on the map..It's a little fishing village near Dundee. By the way, it's really close to Carnoustie, but I didn't play much golf there.. I built some wonderful summer sandcastles on that beautiful beach though!
When you come to visit, you probably won't have as much time as I did.
So whether you stay in a castle, or a cottage, a caravan or a tent....
I want you to make the most of every second to experience the magic and hope this guide will help you to organise your visit whether you have a few days... a few months.... or even the rest of your life to spend here!
Scotland is romantic, wild and beautiful....let it inspire you too...!
The BlogScot keeps you up to date with all additions and changes to the Insiders-Scotland-Guide.com Web Site.
Scotland Travel is One of The Best Parts of the Whole Scenic Experience
Maps of Scotland (and weather)will help you find your way around
The beauty of Scotland accommodation is that it is as individual as you are.
Scotland Bed and Breakfast are Warm, Welcoming and Come In All Shapes and Sizes
Scotland Outdoor Activities Are A Joy or A Challenge
Scotland facts for Travellers Details you need to know when travelling, currency, population, geography
Scotland Capital Edinburgh, has Castles, History, The Festival, Night Life and Much More
Scotland Edinburgh Home to Royal Yacht Brittania
Scotland Spas Offer the Ultimate in Luxury
Scotland Edinburgh Has National Gallery with world renowned artists
Scotland Luxury Travel By Train or Sea Cruise
Scotland Newsletter Page, Subscribe
Contact Us Form
Scotland Luxury Cruises Around Beautiful Coastline
Scotland Brief History, Scotland first settlers, Scotland first parliament
Scotland Favourite Places to visit, a selection of the intriguing towns and historical places on your must-see list
St Andrews is a Favourite Place to Visit, Not Just for Golf
Scotland Links to other Websites of Interest
Scotland Strathpeffer, favourite Spa Town
Scotland Itinerary, Itinerary for three days to One Month
Scotland Bagpipes Music
Scotland legends, Scotland Myths Legends and Real People
Balmoral Castle, favourite royal holiday castle
Scotland genealogy, useful contacts
Scotland Events and Festivals throughout the Year
Scotland Food - What's Good to Eat in Scotland
Scotland fishing, trout and salmon, deep sea fishing
Scotland Scuba-Diving, Scapa Flow, St. Abbs, Best in Europe
Stirling, City of Heroes, Robert the Bruce, William Wallace
Robert the Bruce, Scotland's Legendary Hero
Scottish Customs, growing up with Scottish Customs
Scottish Pubs - Food, Music, Company, hours
Shopping in Scotland, Scottish Jewellery, Scottish Clothing, Souvenirs
Scone Palace, Crowning Place of Kings of Scotland
Kingdom of Fife, a Beggar's Mantle Fringed with Gold
Scotland Books, travel guides, history
Scotch Whisky distilleries are great places to visit
Scotland Budget Travel, Accommodation, Dining Out and Lots More...
About Me
Would you like to share your knowledge about Scotland? Great, find out how you can submit your story or tip here.