Brief History of Scotland
Beginning around 8000 years ago, the first settlers are believed to have arrived in Scotland from the area of the Mediterranean, although some recent evidence from a 9000 year old site on Ben Lawers shows some of evidence of early Norwegian occupation.....
About 2000 BC first descendants of these settlers erect Standing Stones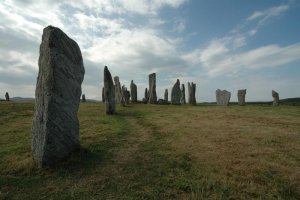 Callandish in Western Isles
AD 82 Roman invasion into "Caledonia" (Roman name for this land) and Roman Emperor Tacitus records victory against the "Picts" (Painted people)and various other tribes.
AD 121 Romans build Hadrians Wall and Antonine Wall to keep out the Picts they were unable to conquer..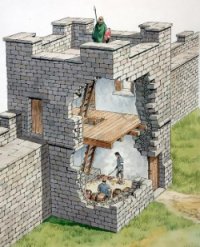 Artist's rendering of Hadrian's Wall as the Romans built it.
It still stands today.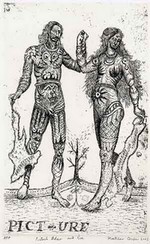 "Picts" or the "Painted People"


AD 500 Romans finally abandon Scottish outposts. Picts Angles and Scots go on to rule their individual kingdoms.
AD 563 Columba founds monastery on the Island of Iona.. Christianity spreads..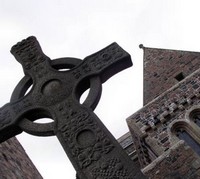 In the year 695 The king of the Picts, King Bruide, defeats the Angles of Northumbria.
AD 843 Picts and Scots are united under Kenneth McAlpin and the Picts identity is lost to history
AD 890 The Norsemen occupy the Western and Northern Isles of Scotland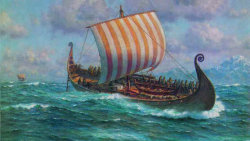 AD 1018 King Malcolm defeats the Angles and his grandson Duncan brings the country together under the name of Scotia, except for the remaining isles still held by Norsemen.
1296 Edward I takes the Stone of Scone (or the Stone of Destiny) to England
1263 Western Isles claimed back from the Norsemen
1320 Scottish sovereignty affirmed by treaty with England and the declaration of the Pope.
1326 Scottish parliament meets for the first time
1472 Shetland and Orkney Islands reclaimed and placed under Scottish rule.
1488-1513 Under the strong leadership of James IV Edinburgh becomes the capital of Scotland
1542-1567 The period of Mary Queen of Scots' short reign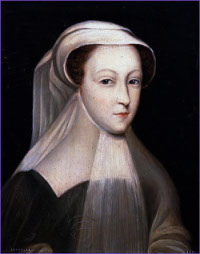 1587 Elizabeth I orders the execution of Mary Queen of Scots
1603 James VI of Scotland becomes James I of England and moves to London
1689 James VII deposed after his attempt to restore Catholicism
1692 Massacre of Glencoe - Campbells murder their hosts the MacDonalds
1745-6 Prince Charles Edward Stuart, or Bonnie Prince Charlie(grandson of James VII) makes a bid for the throne but is defeated at the Battle of Culloden and becomes a wanted man with a price on his head.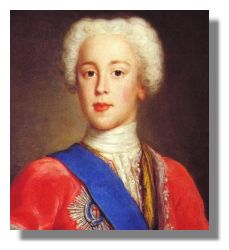 1706-1707 Union of Parliaments of England and Scotland
Scottish Parliament dissolved
1760 Beginning of "The Clearances"
1769 Scotsman James Watt patents the Steam Engine
1786 Robert Burns publishes some of his first poems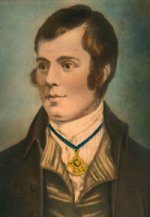 1800 Glasgow's population reaches 200,000 as industry (cotton and shipbuilding mainly) flourish.
1832 Death of Sir Walter Scott. He is buried at Dryburgh Abbey.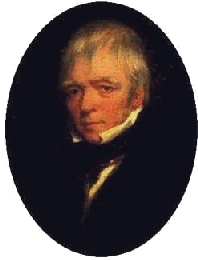 1848 Queen Victoria moves into Balmoral Castle, bringing the Highlands into popular fashion as the place to visit on holiday.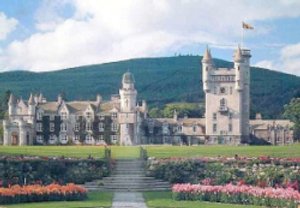 1876 Scotsman Alexander Graham Bell patents his new invention- the first " working telephone"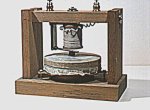 1888 James Keir Hardie founds the Scottish Labour Party
1914-1918 74,000 Scots die in World War I
1931 Economic downturn - high unemployment in Clyde shipyards
1934 Founding of the Scottish National Party
1967 Oil discovered in the North Sea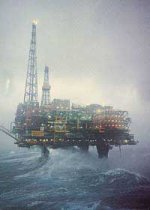 1996 Stone of Destiny returned to Scotland and now on display in Edinburgh Castle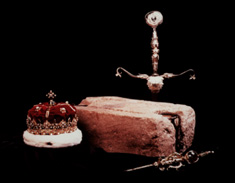 1999 Scotland's parliament restablished

Scotland's new Parliament Building in Edinburgh