Scotland Favourite Places on the Must-See List!
Here is where I get to talk about my favourite places. I know if you are visiting Scotland for the first time you will most likely begin in Edinburgh, which will keep you captivated for a long time. If Edinburgh ever releases you, then I want to tell you about the rest of Scotland! Over the next few weeks and months I am going to add special places of interest, so I hope you will bear with me while I do this.
There are simply so many of my favourite places in Scotland it will take a long time, but I have to start somewhere!
I will cover the Kingdom of Fife (a story in itself) and Sir Walter Scott's home, Abbotsford, and many other favourites but to begin with..
I want to tell you about my absolute favourite Scottish City.. CITY OF HEROES - STIRLING
FAMILY HOLIDAY PARK - LOCH LOMOND
GATEWAY TO THE HIGHLANDS - INVERNESS
HOME TOWN - DUNDEE, CITY OF DISCOVERY
ISLAND - SKYE, ISLAND OF CLOUDS
PALACE - FALKLAND, A JEWEL OF A PLACE
SCONE PALACE and the STONE OF DESTINY
BALMORAL CASTLE

and my favourite tourist town.....

PITLOCHRY!
Pitlochry is in Perthshire, about 24 miles north of Perth. Queen Victoria first made it popular by visiting in 1844. It has so much to offer the tourist (and resident tourist!)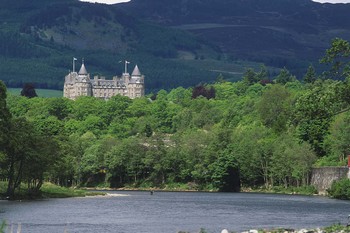 This spectacular hotel is the Atholl Palace. With its baronial hunting lodge style lobby it makes a tremendous first impression on the visitor.
First building started on the Atholl Palace in 1874 and it began as a Hydropathic Establishment to treat people in the healthy Pitlochry air. Now its baronial grandeur has been transformed into a luxury hotel. Besides its romantic honeymoon suites, turret bedrooms and sweeping views of the countryside, it also has some beautifully maintained gardens, which you can visit even if you are not a guest at the hotel.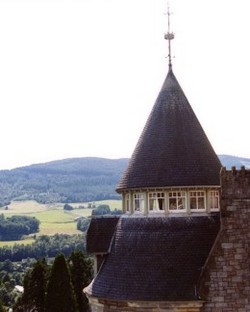 The Romantic Turret Bedroom
I always thought this hotel would be the perfect spot for a honeymoon..the place looks like something out of a fairytale doesn't it? I'm such an incurable romantic!
Salmon fishing in the nearby River Tummel is another delightful way to pass the day at Pitlochry.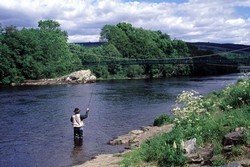 This is a street corner in the town of Pitlochry. Sure there are always quite a few tourists, but I love walking around and taking it all in. There are plenty of places to stay including the Knockendarroch Hotel (www.knochendarroch.co.uk) the Tir Aluinn Guest House (www.tiraluinn.co.uk) and the Strath Garry (www.strathgarryhotel.co.uk) just to mention a few.....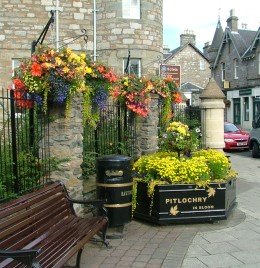 There is almost always a piper there in full Highland dress.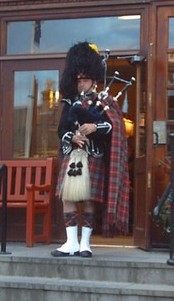 Besides its location in the heart of picture-perfect Highland scenery, it has the Blair Atholl Whisky Distillery you can visit,(and sample the whisky!) the hydro-electric dam with its 310 metre famous salmon ladder, Loch Faskally, the loch formed by the dam, the Festival Theatre and many hotels and guest houses.






For Scottish shopping, the prestigious House of Bruar is Highland shopping on a grand scale. Among other items, it sells cashmere and other high-quality knitwear, artwork, and highland clothing.
Queen Victoria would probably have loved to shop here!




The quality of the objets d'art is very high and there is so much to choose from. I particularly like the sculptures. Here is one of a seated stag..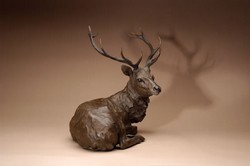 This one is called "Woodcock on Leaves"...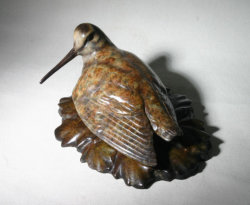 I could spend hours in the place..!



Blair Castle, another favourite haunt of Queen Victoria, is very close to Pitlochry. Mary Queen of Scots also stayed there.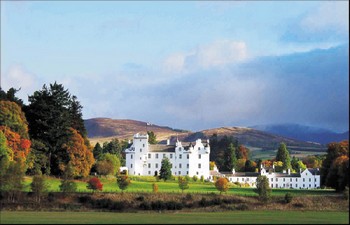 Blair Castle

In 1844 Queen Victoria bestowed upon the Dukes of Atholl, the owners of Blair Castle, the right to maintain a private army. The Atholl Highlanders still exist today. In Blair Castle you will also be able to see some important works of art, including Landseer's "Death of a Hart in Glen Tilt" painted nearby in 1850. Bonnie Prince Charlie also spent two days here during the Jacobite uprising. His pipe is on display here along with his gloves.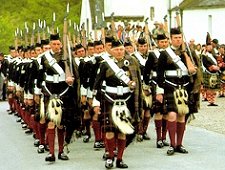 Atholl Highlanders on Parade

The atmosphere in Pitlochry is pure Scotland. The opportunity to view the salmon ladder and the turbines of the great hydro-electric dam at close quarters is fascinating for adults and children alike.
The salmon can be viewed through a thick plate glass window swimming through a series of pipes and an observation chamber.
This is a distant view of the hydro-electric power station from the river.. Nothing like the usual run of the mill power station! (Pardon the pun!)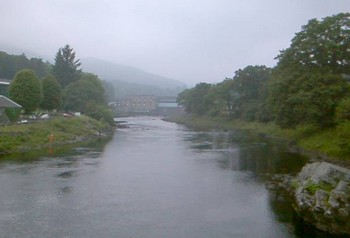 Salmon swimming through observation chamber on its way to breeding grounds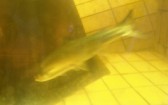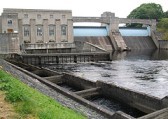 And the salmon ladder dam

Pitlochry also has a theatre and from May to mid-October it puts on a different play for six nights out of seven. You are certainly going to be well-entertained after dinner!



Pitlochry Festival Theatre


While you are in Pitlochry don't forget to go and see the charming Blair Atholl Whisky Distillery. Distilleries are often happy to give you a tour and show you how the whisky is made. You will be struck by the overwhelming aroma of malt. More often than not you will be offered a sample. My father particularly enjoyed these visits...can't imagine why!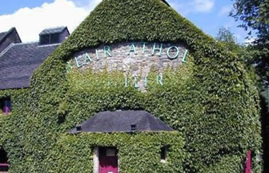 This is the finished product..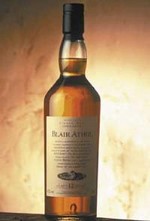 Finally, here is a map of the district to help you find Pitlochry and the Blair Atholl Distillery. Pitlochry is towards the top right hand corner..