Scotland Budget Travel, Accommodation, Dining Out, Passes and More!
Now some people have to go to Scotland, while others have to go to Scotland..
Whichever group you belong to, those on business, or visiting family or on an unforgettable Scottish vacation experience, saving money is always a good thing!
Just because pennies are short for many people at the moment doesn't mean to say Scotland is out of reach. Even if you're on your way to Scotland, or already in Scotland, there are lots of ways the Scots know about, and you should too, to save some money here and there without giving up a thing....nothing wrong with that.... and the Scots are experts!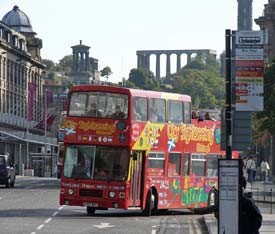 So - starting in Edinburgh and covering travel in and around Edinburgh and the rest of Scotland, in major cities like Glasgow and Inverness, including transport, food, places to stay and visit, I want to give you some useful information for making the money go as far as it can. I am going to let you check out the prices yourself straight from the website as prices change, and I want you to get the most up-to-date information possible.
All of these websites can offer you ways to find cheaper tours, tickets, passes, transportation and good accommodation, from hostels to the mountain bothy, whether you're hiking, cycling, walking or travelling on the train or the bus...the best and least expensive ways to see and experience Scotland's magic.
Getting Around
First of all - getting there - by bus/coach or by train..both are fun, used by everyone, for good reason.
Public transport in Scotland is reliable, clean and efficient. The Scottish roads and city streets were made for sight-seeing buses, and regular buses too. As I said before, in my home town of Dundee, the tram lines are still there, although the trams are gone, but everyone from businesspeople on their way to work, to the "wee wifie" going grocery shopping, uses the bus. They have a regular service, sometimes as often as every ten minutes or so, are on time, (as many people depend on them to get to work), and stop on just about every street corner of cities, towns and villages all over Scotland. For great discounts on bus/coach travel go to Citylink.

Bus/Coach Tours
From Edinburgh you can go lots of places, for a reasonable cost.. Scotline Tours offers day and a half tours of Scotland leaving from Edinburgh. Let someone else do the driving, so you can sit back and just take it all in...
From Glasgow Scotguide offers sightseeing tours, and from Inverness check out
City Sightseeing
.
Jacobite Tours also based in Inverness, offer a wonderful bus tour to the battlefield of Culloden and the standing stones of Clava Cairns. They also offer cruises cruises on Loch Ness...
Again from Inverness, otherwise known as the "Gateway to the Highlands" you can also take a tour with
Puffin Express.




For folks who are more inclined to independent wanderings, there is the unique and quirky Royal Mail Post Bus which carries people as well as letters. You can catch one of these anywhere along its route, two times a day Monday through Friday (except out in the more remote Highlands and Islands) and then they just have one trip a day).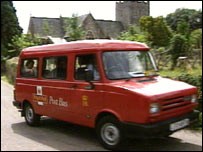 Royal Mail Postbus


All the following companies offer transportation, tours and accommodation, some including entrance fees and some not, which gives you the freedom to choose which places of interest you want to see. You can party in a castle, see Loch Ness,(or even swim in it if you are so inclined!) see the sights, have a fantastic time over Christmas and Hogmanay - and it won't break the bank!
WIld in Scotland

Highland Explorer Tours

Macbackpackers




Trains
The train from London's Euston Station to Edinburgh has a sleeper car and a restaurant car, and gets you there without wasting a day. They also offer rail passes with flexibility to travel all over Scotland on your own timetable, plus discounts for students, senior citizens and children..The message is always BOOK EARLY! especially at peak holiday times like Christmas..their website is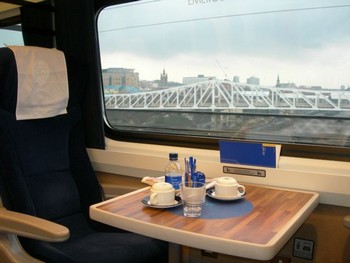 If you're aged 16 to 25 you can buy a "Young Person's Rail Card" and you can buy them at the station in England Scotland or Wales, or online at
Young Person's Railcard. If you are over 25 and what they delicately call a "mature" student you will need an International Student Identity Card and for that you go to International Student Identity Card. The best deal, if you're travelling all over, is the Scottish Freedom Pass...go to Rail Europe.


Ferries
Hopping around on the ferries to the 22 outer islands on Scotland's beautiful and scenic west coast with flexibility and lots of options is easy with
Calmac.
If you are on your way to Orkney or Shetland, check out Northlink Ferries They give discounts for senior citizens, students and disabled passengers.



Hostels and Bothies
When you're there - where to stay...?
Hostels are a great alternative to plush hotels in Scotland. Now I realise that to many people the idea of hostels is pretty scary..stark, unfriendly, half-furnished affairs in a big city. WRONG! They are anything but stark and unfriendly in Scotland..just the opposite in fact


Below is the inside of a Youth Hostel in Glasgow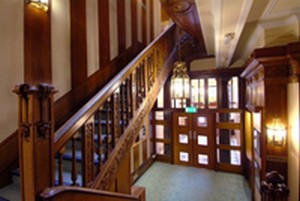 Here's a hostel with Ben Nevis in the background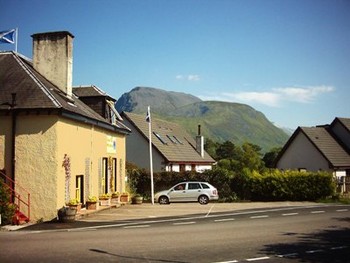 And below another one in Rassay.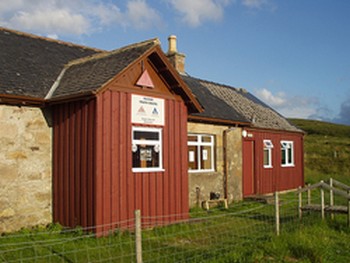 As you can see they vary widely. They are friendly, clean, well-supervised and nicely furnished. Naturally they are inclined to cater to the young and energetic, but they are not confined to youthful backpackers..anyone can stay in them, including the not-so-young - and you don't have to be a student or a backpacker... There is also a website that will help you find the best and most convenient one for you so I am going to give you that web address. It is Scottish Youth Hostels Association (www.syha.org.uk)
You do not need a membership for the Scottish Independent Youth Hostels, which are mostly privately owned and family-run. Hostel Scotland offers good accommodation at a great price ...
There are no booking fees involved for Hostel Bookers which lists cheap accommodation at more than 2000 places worldwide, including many in Scotland. Check them out at
Hostel Bookers

Camping? Hiking? Cycling? Walking?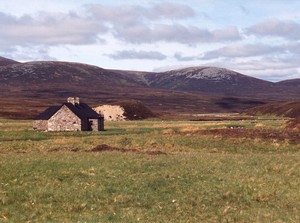 Mountain Bothy

For hill walkers, climbers or long distance cyclists this website is a must. Check out Scottish Camping and for the most extreme camping adventures.. Mountain Bothies (A bothy by the way is a Scottish word for a small hut, cottage or shelter) Bothies are maintained by the Mountain Bothies Association. These are basically weatherproof shelters and are the most basic accommodations of all. Campers and hikers should be self-sufficient for these because they are not furnished nor do they have running water(although there is more than likely a stream or a river nearby) ...you'll need sleeping bags, portable cooking equipment good clothing, boots etc...but what a wonderful experience!
Although free, use of bothies is to some extent governed by an unwritten "bothy etiquette" which goes like this:
Fuel for the fire should be brought, or if fuel stored in the bothy is used, more should be gathered to replace what is used. Many bothies are located far from any trees, though peat may provide an alternative fuel. However, peat digging is likely to be discouraged to protect the local landscape and ecology.
The fire is to be used for warmth, not cooking, and a stove should be brought.
Candles are usually to be found, as with fuel these should be replaced if used.
All rubbish (except excrement, which should be buried) should be carried out.
When defecating, ensure that a location well away from the bothy and away from any watercourse is used.
Large groups and long stays are to be discouraged – bothies are intended for small groups on the move in the mountains.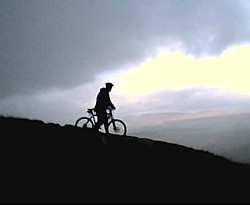 Did you say you were Cycling?
Go to Cycling Hostels Edinburgh for a list of cycle friendly hostels and budget accommodation all over Scotland.
If you are in the Scottish countryside, hiking or cycling
Wildlife Scotland gives lots of information about Scotland's rare and exotic birds, fish and animals, including the Atlantic salmon the capercaille, the pine marten, deer, ospreys and a whole lot more.


Discount Passes

For passes at a discount to castles, historic sites and houses The National Trust for Scotland offers bargain prices for admission to selected places. This is the pass my family always used for our weekly adventures when I was growing up and it's still a wonderful opportunity to see Scotland's magnificent historic castles, houses and monuments at a reduced price. ..check it out at National Trust For Scotland Remember that admission to nearly all museums and art galleries in Scotland is free.

Dining out in Edinburgh
Even dining can be found in Edinburgh at a discount, and that doesn't mean that it's not an excellent meal. Dine Around 5pm offers two course meals at nice restaurants...
Everywhere else in Scotland you can check out Eat Scotland.


The Ghost Tours

Finally...one of my favourite and least expensive forms of entertainment..the Ghost Tours!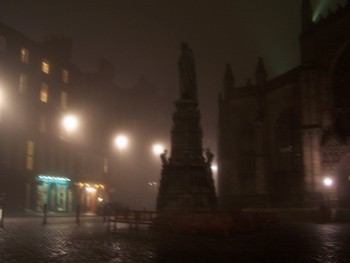 Edinburgh after dark!


I love these tours..Scotland's capital is spooky at night..it really is! If you come from a country where everything is shiny and new, Edinburgh's wonderful old buildings with their winding staircases, turrets, towers, and casement windows can look like a film set. But they're real enough ..and so, I've been told, are the ghosts! I want you to enjoy these ghost tours of Edinburgh. Explore the underground tunnels, Scotland's hidden history...meet the spirits..and not just in the pub, but out on the streets!!...Old Town Tours is a great place to start.
Witchery Tours and Auld Reekie Tours take you to Edinburgh's underground tunnels where you will be introduced to all manner of weird and wonderful happenings in all sorts of spooky places..tales of torture, walled-up people and truly terrifying historical ghost stories from Edinburgh's dark past.... Hold your favourite person's hand..who knows who - or what - you might meet...?!
The tours are not expensive, they're a fascinating history lesson, and what's more...they're fun!



Witchery Tours

Auld Reekie Tours

Old Town Tours


Notes for Shoppers
Just by the way..remember if you're visiting from a non-European Union country, you can claim your V.A.T. (value added tax) back when you leave the country. Shops have signs which read "Tax Free Shopping", usually in the window. If you obtain the form from the retailer and give it to Customs when you are leaving Scotland, you can claim it back (food and books are the exception as they are not subject to VAT).
The link below gives you all the information you will need about Value Added Tax..(which is approximately 17.5%) Information about claiming back V.A.T. when you leave Scotland