Facts About Scotland
Scotland is 30,414 square miles in size. There are 6214 miles of undulating coastline. It is bounded by the Atlantic on the West and the North Sea on the east. It is made up of 787 islands, and one quarter of them are uninhabited. The resident population of Scotland is some 5,100,000 which amounts to approximately 167 people per square mile. 98% of Scotland is countryside.


Geography
Scotland is not all mountainous but most of the Highlands area lies above 2000 feet. The highest peaks are Ben Nevis at 4406 feet and Ben Lawers at 3984 feet. The largest freshwater lochs (lakes)are Loch Lomond, Loch Ness, Loch Awe, Loch Maree, Loch Morar, Loch Katrine and Loch Tay.
Ten major rivers of Scotland, in order of length, are:

River Tay 193 km (120 miles)
River Spey 172 km (107 miles)
River Clyde 171 km (106 miles)
River Tweed 156 km (97 miles)
River Dee 137 km (85 miles)
River Don 132 km (82 miles)
River Forth 105 km (65 miles)
River Findhorn 101 km (63 miles)
River Deveron 98 km (61 miles)
River Annan 79 km (49 miles)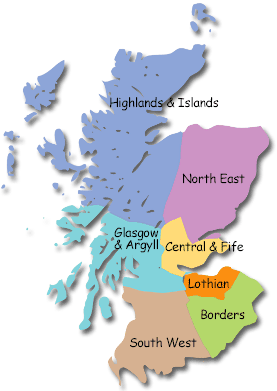 Currency
Scotland issues its own bank notes which are also legal tender in the rest of Britain. The notes are as follows : £50 £20, £10, £5, 2 1 (also a £1 pound coin) the coins are 50p (50 pence) 20p, 10p, 5p (all silver coins) then 2p and 1p (copper). 100 pence make up one pound. Cards such as Visa, Mastercard, Access, Barclaycard, American Express, Diners Club, Eurocard are widely accepted in Scotland.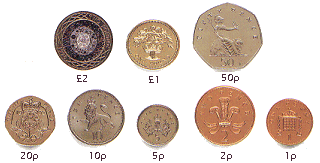 Time
The time in Scotland is Greenwich meantime. From mid-March to October the clocks go forward by one hour to give British Standard Time, which is the same as Central European Time.
Emergencies
In an emergency you can dial 999 for fire, police, ambulance, Coastguard, Mountain rescue and the Coastguard.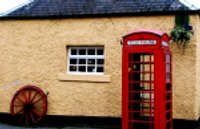 Telephone
Many phone kiosks take pre-paid phone cards which are available from the Post Office and some newsagents. Dial 100 for the operator.
Driving

Nationals of European countries require a valid National Driving Licence in order to drive in Scotland. Other nationals require an international driving licence. US Nationals require a driving licence that is valid for 12 months. You can get a permit from the national Auto Club Touring Dept. 188 The Embarcardero, Suite 300, San Francisco California 94105. An international Insurance Certificate is no longer required. The registration papers (log book) and nationality plate must be kept in the vehicle. Most rental agencies will not rent to those under 21, sometimes under 25. The Michelin Map is a must for travellers...One of the best is the Michelin Road Atlas of Great Britain and Ireland. M - stands for Motorways A - stands for major roads B - stands for minor roads.
Speed limits are 70mph motorways, 60mph on other roads, and 30mph in towns and cities. American Automobile Associations Offices to Serve You Abroad can always be a great help to the traveller ..check out www.europeassistance.co.uk
Electrical Appliances
Electricity is supplied at 240V, 50Hz AC. and you need an adaptor for non-British appliances. You can find one at most any electrical store all over Scotland in the towns and cities. North American appliances run on 110V and you will need a transformer if there is not one built in.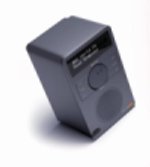 Newspapers, Radio and TV
Even the papers are historical! The Herald, (founded in 1783 and the oldest daily newspaper in the English-speaking world), The Scotsman, The Sunday Post, The Daily Record and the monthly Scots Magazine are a great source of information when in Scotland.
Radio
Radio 1 caters to teen pop, Radio 2, music for older listeners, Radio 3 has classical and opera, Radio 4 covers news, current affairs, comedy and drama. BBC Radio Scotland offers all things Scottish, music news and so on.
TV
BBC 1 and BBC 2
(BBC stands for British Broadcasting Corporation) These stations are publicly funded (we buy a TV licence)and produce some excellent quality programmes.
VAT
(Value added tax) is 17.5% and non-Europeans may claim it back when leaving the country. The retailer should complete the paperwork at the time of your purchase.
Pubs

(Public Houses for the uninitiated!) are generally open from Monday to Saturday from 11am - 11pm and on Sundays from 12.30pm - 2.30p.m. and again from 6.30pm - 11pm. No alcoholic drinks should be consumed by anyone under 18 years. A lot of pubs serve nice food as well as alcohol.
Exchange Rate
The easiest way to calculate the current exchange rate is to visit www.xe.com on the internet.
Just a Few Scottish Words You Might Hear

bairn - baby, child
ben - hill
bide - stay, wait
blether - idle chatter (i.e. bletherin' on)
burn - stream
cairn - pile of stones (i.e. on top of a mountain)
canny - cautious
craig - rock
glen - valley
hackit - ugly, unattractive
kirk - church
lang syne - long ago
loch - lake
lug - ear
lum - chimney
muckle - big
Sassenach - Englishman
strath - valley
the morn - tomorrow
the nicht - tonight
wee - little

Flag of Scotland



The flag represents the cross of Christian martyr St. Andrew, the Patron Saint of Scotland. The flag of Scotland, called the Saltire of St. Andrew dates from 1503. (St Andrew was martyred on a saltire cross). The cross appeared to King Angus who was leading the Picts and Scots against the Angles in battle. The vision of the white cross against the blue sky inspired and assured him of victory.