Scotland Travel is Easy and Travelling Around is a Scenic Adventure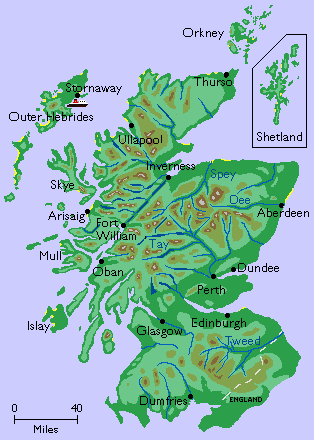 Scotland Travel
Air Travel
Travelling to Scotland is fairly straightforward as Europe is an international gateway and there are direct flights to Scotland from continental Europe and North America. The major airports are at Edinburgh (7 miles from city centre) and Glasgow (8 miles from city centre) and all run a shuttle service. The four other major international airports are at Aberdeen, Prestwick, Inverness and Sumburgh on the Shetland Islands. Scotland is now more accessible than ever from Europe through the Channel Tunnel.
The cheapest flights are from November to April, with the peak season falling between May and September, when it is a good idea to book in advance. Delta, US Airways and Virgin Atlantic all fly to Scotland from North America. European hubs include London, Amsterdam, Paris, Frankfurt and Reykjavik (Iceland). The main airports in England are Gatwick, Heathrow and Stansted. The internet is an increasingly popular place to start comparing prices for Scotland travel,and sites like Expedia.com can be most helpful. A travel agent would be better able to cater to individual needs and put together a personalised package. Prices are constantly subject to change.
EasyJet, Ryan Air, Highland Airways and KLM all operate between England and Scotland and can get you from the major cities to the islands. In Scotland there are airports on Stornoway, the Isle of Islay, the Isle of Barra, Wick, Kirkwall(Orkney) and Campeltown.
Rail Travel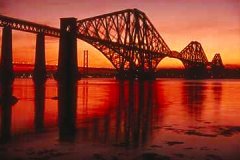 If you decide to travel to Scotland from London, a wonderful worry free way to travel is by train. Rail travel is very popular in the British Isles and people from all walks of life use it to visit friends, get to work, and go on holiday. Owing to the high price of fuel it is competitive way to travel and gives the visitor a chance to relax and view the countryside. Sleeper cars are available from London to Edinburgh and the journey takes less than five hours.
Rail travel includes wonderful scenic journeys, especially the one over the Forth Rail Bridge which takes you to Edinburgh. Rail passes are available to those who wish to do the majority of their travel through Scotland by train. Contact http://www.firstgroup.com/scotrail for details of passes and sleeper cars.
Also many of the old steam trains have been restored and will take you through especially scenic and historic routes. Tourist Information Offices will have copies of their routes and schedules.
More about about trains later! My father is a steam train enthuiast! For other ways of Getting Around in Scotland including car rental, coach and ferry travel in Scotland Click here for more info. on Getting Around in Scotland
Or if you would like to return to the Home Page just click on this link

Return to Home Page