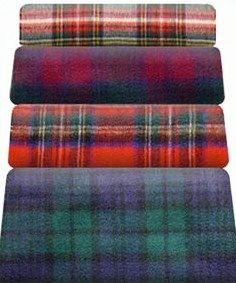 Cosy tartan blankets
Shopping Scotland!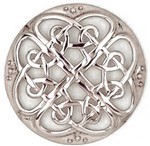 Traditional Celtic Jewellery
If you are visiting Scotland, I know you will want to take a part of Scotland home with you..It's impossible to show you all the beautiful things that Scotland has to offer, the jewellery, the hand-made glass, the hand-knitted fair-isle sweaters, stag-horn crafts, and a variety of delicious shortbreads, and whisky flavoured marmalades. I simply want to show you a small sample of what you can buy in Scotland and give you some ideas of what you might like to take home...I personally want them all...!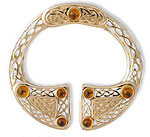 Treasures from Scotland come in many different forms. My own most treasured possession was Mackintosh, the Highland Cow, who came home with me from a trip to Aviemore when I was eight or nine.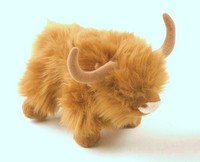 Even if you live in Scotland, like our family, there are still things to covet..so I want to make some suggestions for things that we loved and you will too.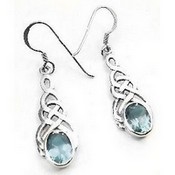 First of all...there is Celtic jewellery..earrings, brooches, silver rings with a celtic knot,(symbolising eternity) and designs taken from nature..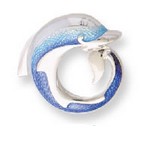 The traditional silver Celtic knot like this wedding ring

Some jewellery uses the Cairngorm


The Cairngorm is a kind of quartz crystal found in the Cairngorm Mountains. It usually has a smokey yellow-brown colour. (My mother always wore a brooch like this). Cairngorms are also used as a decoration on kilt pins and the handles of "sgian dubhs" (a ceremonial dagger worn as part of the highland dress).



sgian dubhs
(pronounced skee-an-doo)
By the way, the largest known cairngorm crystal weighs a whopping 23.6 kg (52 pounds) and is kept at Braemar Castle.
The other thing we coveted was Caithness Glass...paperweights, vases...all hand made in the colours of Scotland...purple heather, warm tones of the spring flowers, the peat-grey blue of the lochs..I know I'm gushing..but these things are works of art!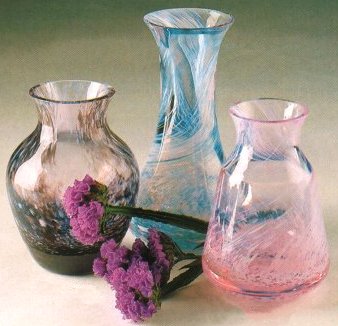 Caithness Vases

Caithness Glass, which has recently been acquired by Edinburgh Crystal also makes paperweights..some of the best in the world....and you can visit their factory to see them being made..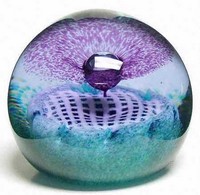 paperweight called "The Flower of Scotland"


I could fill the house with these..not very practical if you have small children or cats though..!


The Sheep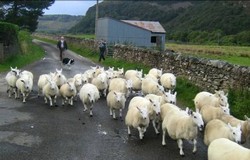 There are many sheep in Scotland!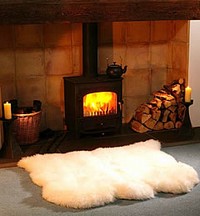 Sheepskin rug


The other thing you've probably noticed in Scotland is an abundance of sheep. So naturally Scotland produces wonderful products from their wool, sweaters in the "fair isle" pattern, cable knit sweaters, (soft and intricately patterned) scarves, hats, blankets, and the material for the kilt....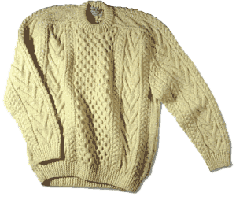 And of course sheepskins...the darker ones are more valuable..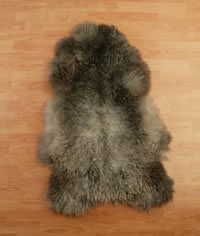 dark sheepskins


In many of the larger cities, and some of the smaller ones, you can consider buying traditional Highland dress.. You can purchase bolts of cloth from the kilt-makers,(there are many in Edinburgh, on Princes Street, and the other towns and cities). They will help you choose your tartan, if you don't know it already, make the kilt for you, and help you to wear it correctly..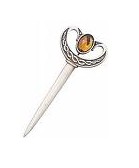 Kilt pin with Cairngorm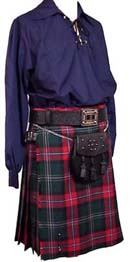 They also sell accessories, such as sgian dubhs, kilt pins and hand-made sporrans like this leather one..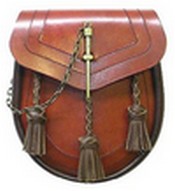 Then there's the whisky - whisky without an "e" whisky (Scottish Gaelic uisge-beatha). By the way, the Gaelic translation of the Latin phrase "water of life" is (aquae vitae).
Whisky-making became a people's art in Scotland hundreds of years ago. At first it was practised by the ex-monks who took up other occupations. It eventually found its way to the crofts and great houses of the Highlands. By the 1600's triple distillation was common practice in the Western Isles of Scotland. Also by then uisge beatha (the Gaelic translation of aquae vitae, from which whisky today is derived), was a central part of Highland life.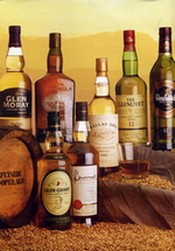 Famous Scottish Whiskies


Scottish whiskies are generally distilled twice and must be matured for a minimum of three years in oak casks..
Food and Ales
Then there's the edible and drinkable goodies..You can buy packaged haggis, (or black pudding) but I know for a fact certain airlines won't let you take meat products out of the country..for those of you who crave haggis, this is a disappointment..But there's always whisky marmalade, shortbread, and Scottish ales.
Princes Street in Edinburgh has many shops that sell all these goodies...





These are Scotland's historic ales, nicely packaged and easy to transport

.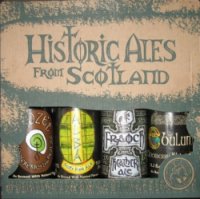 And finally..if you are in Edinburgh..I recommend a favourite treat of mine called "Edinburgh Rock"..It's not that hard or rock-like..in fact it's quite soft and sweet actually..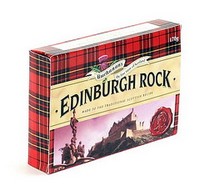 I hope these suggestions are helpful to you as you go shopping for the just the right gift to take home from Bonnie Scotland..