St Andrews - Favourite Place Not Just for Golf!

St Andrews, besides being the Home of Golf, is a fascinating little town to visit. Walking around the cobbled lanes of St Andrews you can see the University, the third oldest in Britain, founded in 1410, (which has no campus as such, but is integrated into the town) where Prince William began his studies in the History of Art in 2001.





Prince William









The first woman to enroll as a student in Britain enrolled there in 1862 and the first marine lab was opened at St Andrews University in 1882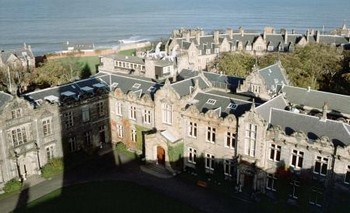 St. Andrews University


Although it is on the same latitude as Moscow, St Andrew's climate is relatively mild. It has two sandy beaches, one of which was the backdrop for the opening scene in the movie "Chariots of Fire".
St. Regulus,(or St. Rule) was shipwrecked on his way here from Greece while, according to legend, transporting the bones of the apostle St Andrew (the patron saint of Scotland) far away from their original resting place according to the instructions of an angelic being.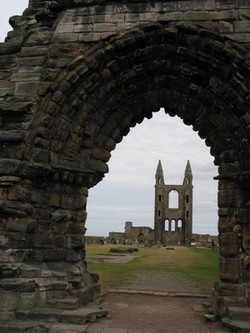 Both in ruins and favourite subjects for artists..Above is St. Andrews Abbey
and Below
St. Andrews Castle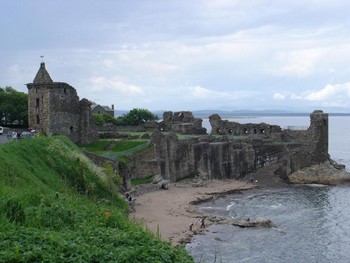 James III was born in the castle in 1445. One of the prisoners in its dungeons was John Knox, the fiery protestant preacher. Eventually the stones were plundered from the castle to construct other buildings in the town, but parts of the castle still remain.
The Protestant Martyr, George Wishart was burned at the stake in North Street in March 1546 and some say you can see the outline of his face on one of the stones nearby where he died, etched there by the smoke.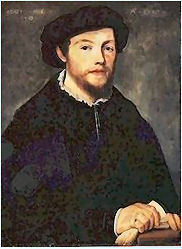 George Wishart

Most of St. Andrews can be visited on foot, and it has plenty of pleasant hotels and restaurants among them the Albany Hotel and the Byre Theatre Cafe Bar and Restaurant.
This is the High Street.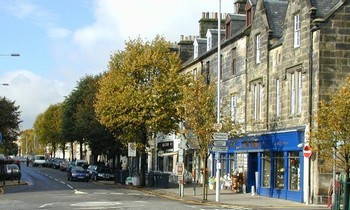 There are plenty of other interesting things to do and places to visit, among them in July and August reenactments of historical events, and a "Witches Tour" at night where a well-informed guide can tell you some hair-raising ghost stories and other tales of St. Andrews intriguing history. There is also a Nature Reserve and the quaint Fife Folk Museum
Fife Folk Museum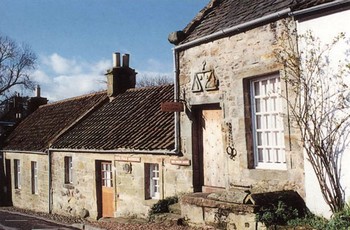 Here you can learn about the "Ceres Games" the event held on the last Saturday in June to celebrate the victorious return of the soldiers from the Battle of Bannockburn in 1314. Visit their site at www.fifefolkmuseum.org.




Return To Favourite Places

Return to Itinerary Page