Bed and Breakfast


Staying in a "Bed and Breakfast", as they are called in Scotland, is like staying with a family. This is probably the least expensive private accommodation.
"B and B's" are warm and welcoming. The breakfasts are usually full, cooked breakfasts and will not often be served with traditional Scottish porridge (with salt) unless you ask! There are usually quite a few handy "B and B"'s in all the cities and small towns.
They offer cozy rooms, and the larger ones have private bathrooms..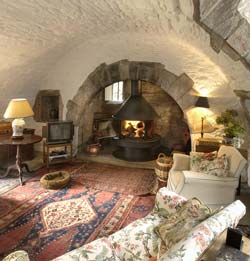 "Bed and Breakfasts" appear in all different places. Here is one in a city. If you arrived by plane to one of the larger Scottish cities, you can either take a bus or a taxi to your destination. Scottish cities usually have wonderful public transportation. You may need good walking boots and an umbrella in winter though!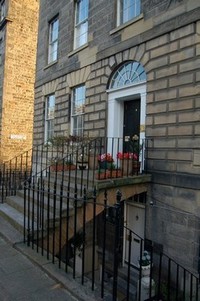 You usually have a choice of a breakfast with cereal, orange juice, toast or a croissant or both, served with Scottish marmalade..yum..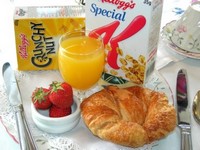 Or in the winter, and that's when people get really hungry, you could choose some combination of eggs, sausages, mushrooms, tomatoes, and bacon, (sometimes the Scots eat beans with their breakfast, baked beans..sometimes they have "smokies" - smoked haddock- for breakfast too, and it's quite delicious)....You could even ask for porridge, a wonderful way to keep warm on a winter's day!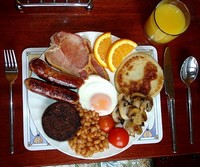 Or if you prefer, eggs.. scrambled, poached, or boiled, served in egg cups..(That's the way I like them!). You can have them hard boiled, lightly boiled, or somewhere in between, then you can eat them with little slices of buttered toast (sometimes known as soldiers..not sure why!)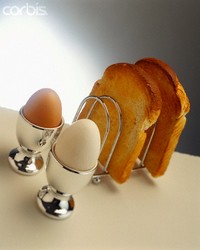 The only time you might have a problem finding a room in a Bed and Breakfast is in Edinburgh during the Festival(mid-August through early September)..Then you might just have to book in advance. Remember too, that during July and August, the Scots themselves are on holiday, but nowhere gets seriously crowded in Scotland..the Scots like open spaces too!


Just to show how different they can be here is a picture of a bed and breakfast in a small town in Scotland....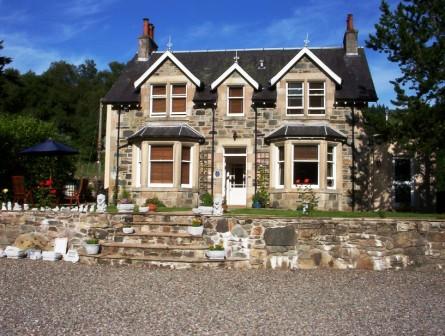 They offer two kinds of rates usually, either Bed and Breakfast (just a room and breakfast) or sometimes dinner, bed and breakfast. The one thing all these different kinds of bed and breakfasts have in common is the warmth and hospitality of the Scottish people.