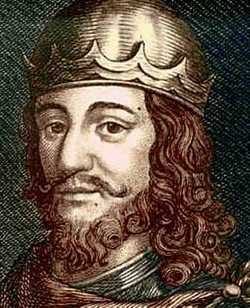 Robert the Bruce

"Onward braveheart, Douglas shall follow thee or die."
After the death of the great warrior-king, Robert the Bruce, (Robert de Brus, son of the Lord of Annandale), his body was buried in Dunfermline Abbey in the county of Fife.
His heart was taken as a talisman on a crusade by his friend and compatriot Sir James Douglas, otherwise known as the Black Douglas. Douglas was eventually ambushed and killed, but as he realised he was about to die, Douglas is said to have thrown King Robert's heart to his companions for safe-keeping and cried out these words

"Onward braveheart, Douglas shall follow thee or die.".

Bruce's heart, according to the orginal decree, is now buried at Melrose Abbey, near the Scottish borders.



Melrose Abbey


Douglas's successors carry the image of Robert's bloody heart on their coat of arms to this day.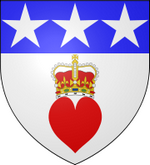 Coat of Arms of the Douglas Family


Robert the Bruce, as well as being the founder of a line of Scottish kings, is a hero to the Scottish people. Unlike William Wallace, undoubtedly a fierce and selfless patriot, Bruce was probably driven as much by personal ambition as by love of his native land. His best known and greatest achievement was the defeat of the English at Bannockburn, near Stirling. Whatever his motives, Robert the Bruce was brave, fearless in battle, and perhaps most of all, he was persistent...
I thank Robert the Bruce for the personal lesson he taught me. As a child in a Scottish school, as averse as I was to the bloodletting of Scottish history, it is impossible not to be inspired by his story. It goes like this..
After murdering his rival, Comyn, on sacred ground, (some said in front of the altar at Greyfriar's Monastery), Bruce was a fugitive. His castles had been confiscated, his wife and daughter captured by the English, his brother murdered, and the Countess of Buchan, who had crowned him King of Scotland at Scone Palace, suspended from the castle walls in a cage.


Raithlin Island, Ireland


Temporarily defeated and demoralised, and hiding out in a cave in Raithlin Island, Ireland, Bruce was watching a spider, spin its web, fail, and try again. Seven times, it failed, but every time it failed, it began again.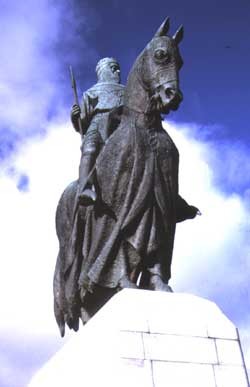 Statue of Robert the Bruce in Stirling


Inspired by the perseverance and determination of this humble creature, Robert the Bruce went on to inflict a series of defeats, (some say seven, the equivalent number of webs the spider tried to build,) on the English. Those who had pursued him and his family, were defeated decisively in the Battle of Bannockburn, fought near Stirling, which assured Scotland's independence for the next four hundred years.
Culminating in the Treaty of Northampton in 1328, which saw Edward II give Scotland its independence, and recognise Robert the Bruce as king, his series of victories followed on where William Wallace, who was executed by the English, left off.
He is a hero to this day, his name prominent amongst Scottish heroes, and his legend very much kept alive, even appearing recently on this Scottish stamp, which commemorates the Battle of Bannockburn.