Camping


There are many campsites in Scotland. They have various amenities, usually geared to caravans..Get a copy of "Scotland - Caravan and Camping" from the Tourist Information Centre. This will give you the locations and how to get there. Always take bug spray with you in the warm summer months. When the weather is nice, out come the "midges". This is what the Scots call the little invisible wicked biting insects. (You can purchase a "midge net" from most camping stores.)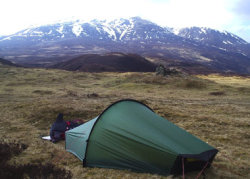 Wild Camping
This where the adventurous amongst us come in!...

The Highlands and Islands are a haven for campers who want to challenge themselves and experience Scotland in all its raw beauty. Mountaineers and campers are usually well aware of the rules of camping..
The Mountaineering Council of Scotland has a website about the rules of where and how to camp and it is well worth visiting.
The main consideration of course is the environment. Their message is "Take away with you what you bring". Makes sense to me!...Also visit http://www.outdooraccess-scotland.com to find out the rules of outdoor camping. It is mostly about wilderness protection and consideration for landowners and wildlife, and to most lovers of the outdoors will be common sense, such as camping some distance from private homes or farms, not taking your dog who could inadvertantly worry sheep,cattle or wildlife and picking up the rubbish from your campsite.
Incidentally in the Highlands in July, it is light enough at 11pm to read your newspaper outdoors..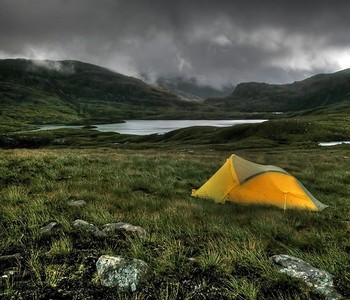 The weather in Scotland tends to be more favourable from May to September. Due to Scotland's northern latitude the nights can be very short in summer (and very long in winter!). During the winter months of course the weather can be really drastic..and extremely changeable.
That's where campers, walkers, hikers and moutaineers have to be very careful not to be caught unawares. Stay tuned to the local radio station to get periodic updates..