Edinburgh Greyfriars Bobby - A Lesson in Devotion and Loyalty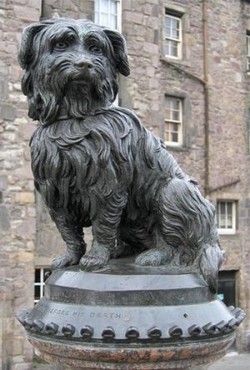 Anyone who is a dog lover (like me!) cannot fail to be moved by the story of Edinburgh's Greyfriars Bobby, and no visit to Edinburgh would be complete without at least hearing his story.
In nineteenth century Edinburgh lived a nightwatchman named John Gray who worked for the city police and whose faithful companion, Bobby, was a Skye terrier. He probably looked a lot like this fellow..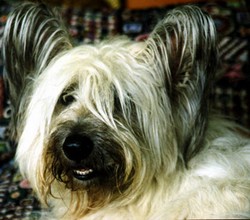 The two of them were constant companions, Bobby accompanying him on his rounds every night. Sadly the nightwatchman contracted tuberculosis and died, leaving Bobby alone in the world.
From then on, Bobby spent the rest of his life lying beside his master's grave at Greyfriars Churchyard. Fortunately, the Lord Provost of Edinburgh also happened to be the director of the Scottish Society for the Prevention of Cruelty to Animals, and paid for Bobby's licence, thereby making him the responsibility of the city council who took it upon themselves to feed him and take care of him.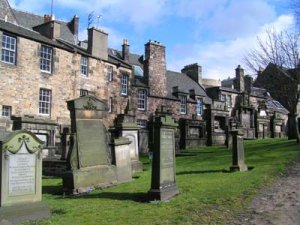 Bobby only left his master's grave to eat.
Bobby lived to be sixteen years old, but when he died, he was not able to be buried in the churchyard as it is consecrated ground, so he was buried just outside the gate to Greyfriars Kirkyard.
There is now, a statue, next to a pub in Candlemakers Row, Edinburgh, not far from the Royal Mile, so if you want to go and visit either his statue, or the pub nearby, you will not have to go far out of your way. For dog lovers, and pub lovers alike, the pilgrimage is worth it!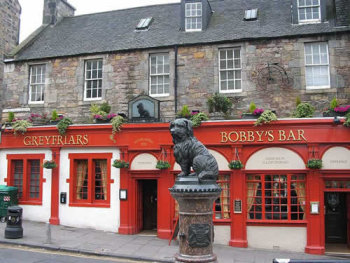 In 1981, the Duke of Gloucester put a small red granite stone on his grave reading "Greyfriars Bobby- died January 14th 1872 aged 16 years - Let his loyalty and devotion be a lesson to us all"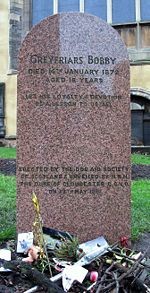 Many books have been written about Bobby, and movies made also, including one where Lassie took the role of Bobby!
For more about Bobby and Skye Terriers contact his website at Greyfriarsbobby.co.uk and also the Skye Terrier Rescue Association at www.skyeterrier.org and maybe you can help one of these fellows who needs a loving home. I mean who could ask for a more faithful companion?