J.K.Rowling and Harry Potter's Magic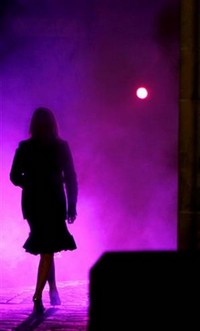 J.K.Rowling at Edinburgh Castle
A remarkable woman J.K.Rowling is..and quite modest really. She was born Joanne Kathleen Rowling on 31st July 1965, in Yate, Gloucestershire, not far from Bristol, in England. She has sold some 400 million copies of her books and her estimated worth is somewhere in the vicinity of $545 million, making her the richest woman in Britain, some say richer than the Queen of England.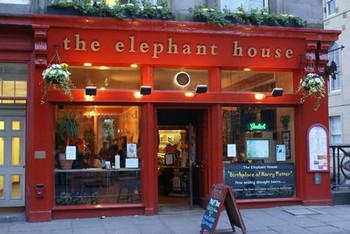 The Elephant House Cafe in Edinburgh, where Rowling worked on the Harry Potter books...

Currently her life is a fairy tale, and is in some respects, just as intriguing as any Harry Potter book. But it wasn't always that way for her..in fact her life was at one time more like a page from the Brothers Grimm.
Now, what you may say, has J.K.Rowling got to do with Scotland..if she was born in England? Well, the fact is that most of the unforgettable scenes from the Harry Potter movies were filmed in Scotland, J.K. Rowling now has a home there, and Harry Potter himself was born in Scotland's capital city... Edinburgh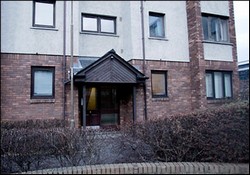 J.K.Rowling's flat in Edinburgh

It's often said that great writing is born of some awful suffering and torment, and J.K.Rowling was certainly suffering when she began to create one of the most famous children's characters in the world. She was a single mother at that time, struggling by herself to raise a baby daughter, alone and depressed. She hadn't been divorced for long when she moved to Edinburgh to be near her sister.

Now Edinburgh is a beautiful city, but a single parent's life can be very hard - in any city really, and alone with a young child and no money, it can be very dreary indeed. At the time she suffered from clinical depression, and it is said that in her darkest moments she even contemplated suicide. In fact anyone who has seen her movies and knows about the "dementors", (those ghoulish creatures that come out of the darkness to suck up your soul), can readily relate to the dark manifestations of that debilitating illness.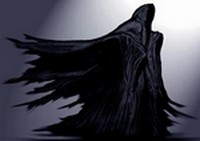 A "Dementor"

Edinburgh in the winter can be quite forbidding, but remarkably enough, in a rather dilapidated tenement flat in that great city, she began to turn her life around. At the same time she created some of the most famous books children of all ages have ever been treated to. Surviving on Government benefits, she took her small daughter with her to write in the coffee houses of Edinburgh, which you can visit yourself, such as Nicolson's Café and the Elephant House Café. It was here, she said, after taking her for a walk on the Edinburgh streets, her daughter slept, and she wrote with a cup of coffee for sustinance, for hours on end....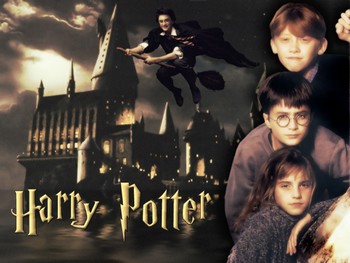 Movie poster for Harry Potter

She wrote the original manuscript of the "Harry Potter" story on an old typewriter, which just goes to prove you don't need fancy tools to create a masterpiece. What an inspiration for aspiring writers, single parents and people who suffer from depression, despair and loneliness everywhere...Creative people ..take heart, although bear in mind that Rowling was at first advised to keep a day job, as, she was told she'd "never make any money from writing children's books"..sort of amusing in hindsight!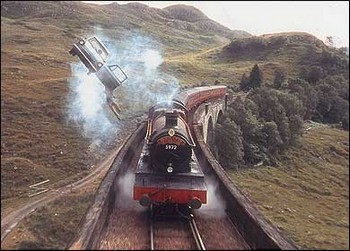 Ron's Flying Car

Rowling is a true artist, and suffered for her art, but this writer is different. Unlike many less fortunate legendary writers and artists, who saw neither a penny, nor a word of recognition during their lifetime, she is not only a legend, but a living and wealthy legend. Refreshingly, her wealth and fame were just as much a surprise to her as the rest of the world, as apparently when Scholastic Inc., bought the rights to publish the novel for $105,000, Rowling said she "nearly died" from shock, and now everyone knows how her own story eventually turned out..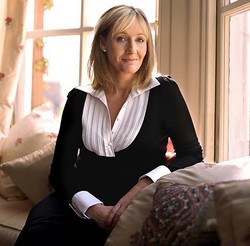 A living legend - J.K. Rowling

Like all all successful people, J.K. Rowling has her detractors, and there has been talk of "satanic influences" on the young readers of Harry Potter and his school of wizardry. In truth the tales of Harry Potter are harmless, if very absorbing, fare, read not only by children, but adults too. The stories are a lot less terrifying than Hansel and Gretal even..and what child has not been terrified by that so-called "fairy-tale"..not many fairies in that one...putting children in the oven indeed!
Harry Potter, Ron, Hermione and friends are a likeable lot, and many children have grown up with them, moving with Harry himself through his twelve year old struggles at home, to his boarding school and first date, with all the accompanying teenage awkwardness. Harry is not only someone with whom children can share adventures, but also someone to identify with. Harry has problems at home too! Arguably Potter's greatest gift to 21st century children, is that he magically took an entire generation of video-game and television addicts, and turned them back on to the wonder of the written word, and that's no mean feat!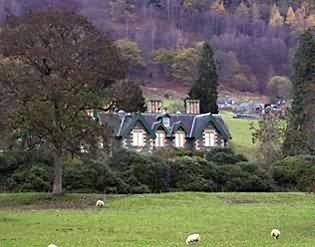 Rowling's house in Aberfeldy, on the banks of the River Tay

It's fascinating to think about Rowling's own life, where she came from, and how her life has unfolded. She was always a story-teller and used to entertain her young sister with tales of Alice-in-Wonderland type stories about rabbits... ..She received a good education, and had a flair for languages, travelling later to Portugal where she taught English. She also worked in London as a bi-lingual secretary for Amnesty International. For all her insight, she says she doesn't really know where Harry Potter came from, but that the stories came "fully formed" into her head, during a train journey in 1990 from Manchester to London.
If you believed in channeling, or any kind of magic, you could say she was a kind of medium for the tales, but however they came, the stories are gripping and the characters unforgettable. Her headmaster, Alfred Dunn, at the school she attended, was said to be the inspiration for Albus Dumbledore, the ethereal headmaster of Hogwarts, and Harry 's friend and schoolmate, Hermione is loosely based on herself, at the age of eleven.
J.K. Rowling wrote on through her mother's death, and a sad death it was too, from multiple sclerosis. She later commented that the loss of her mother helped her to write about the loss of a parent in a much more understanding way. You can tell when you read about Harry, or watch the movie, how much she loved and misses her own mother.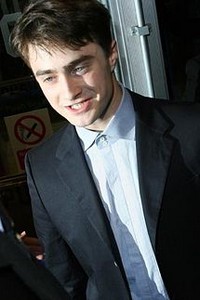 Daniel Radcliffe, "Harry Potter"

A woman of principles, she has always insisted upon, and got, an all British cast for the movies, and Daniel Radcliffe has now gone on to the stage, recently starring in Equus, no doubt with a stellar career in front of him, already a millionaire in his teens.
Of course she has given back, so no-one can say she's been selfish. She has generously donated millions of pounds to charities such as Comic Relief, One Parent Families and the Multiple Sclerosis Society of Great Britain among many others. Rowling has made a difference in many a life, in a multitude of ways..
Lots of people go to see the hallowed places (forgive the pun) where she wrote those books in Edinburgh's Nicolson's Café and the Elephant House Café. These places will go down in history along with the author herself. J.K. Rowling,(she calls herself "Jo") is a sort of modern day Lewis Carroll, whose tales will be told and retold, endlessly delighting generations of children to come, and even if it's on an electronic screen, the best part of all..keeping them reading!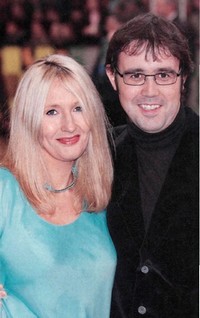 J.K.Rowling has re-married, to a doctor, and her life is complete. One hopes that this will be for her a happier ending than any romance novelist could produce...she's certainly had a more interesting life so far than any fiction writer could dream up.
This is a list of the Harry Potter series...they have been translated into no less than sixty five languages...
Harry Potter and the Philosopher's Stone (26 June 1997)
Harry Potter and the Chamber of Secrets (2 July 1998)
Harry Potter and the Prisoner of Azkaban (8 July 1999)
Harry Potter and the Goblet of Fire (8 July 2000)
Harry Potter and the Order of the Phoenix (21 June 2003)
Harry Potter and the Half-Blood Prince (16 July 2005)
Harry Potter and the Deathly Hallows (21 July 2007)

When Halloween comes around, it's a great time to visit JKRowling's official site. Here also are two sites that tell you where in Scotland the movies were filmed, and about the many opportunities exist for guided "Harry Potter Tours" of such places as the lovely Fort William, Glenfinnan and Glencoe, which are magnificent under any circumstances...You can also ride the Hogwarts Express...




Harry Potter's Scotland

Art Movies

Return to Scotland Myths and Legends

Return to Edinburgh Page

Return to Home Page