J. M. Barrie and The Boy Who Would Not Grow Up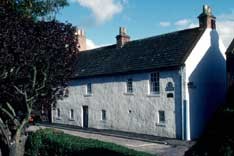 J. M. Barrie's birthplace, Kirriemuir, Angus

All throughout the life of Sir James Matthew Barrie, you meet the characters that were to become Wendy, The Lost Boys, and Peter Pan himself. J. M. Barrie's life was poignant but filled with real-life drama and a cast of real-life people to rival any work of fiction.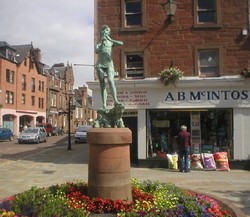 Peter Pan Statue, Kirriemuir


Born on 9 May, 1860 in Kirriemuir, Angus, to a Calvinist family, J. M. Barrie was one of ten children, and his father was employed successfully as a weaver. His mother had taken over the responsibilities of a parent at the tender age of 8, when her own mother died, and was the model for the young but maternal Wendy. Death was to claim many members of his actual and adopted family too early, and perhaps the boy who was never to grow up may have in part been based on his next-oldest brother,(and his mother's favourite) who was killed in a skating accident just two days before his 14th birthday, when Barrie himself was only 6 years old.

James Matthew Barrie


J. M. Barrie's mother was inconsolable, and Barrie attempted to take his brother's place by entertaining her with his storytelling and even at times wearing his brother's clothes, but it was a hopeless task. Once, on entering his mother's room he heard her say "Is that you?" and he believed she was talking to his dead brother. Barrie replied, "No, it's no' him, it's just me".
His mother drew comfort from the fact that his lost brother would be forever young, echoes of Barrie's most famous character, the eternally boyish Peter Pan.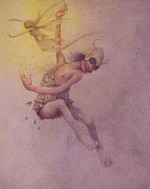 Barrie's parents wanted him to become a minister but he had other dreams...he wanted to be an author. Barrie was sent away to school in Dumfries, after a short time in Glasgow. There Barrie and his schoolfriends spent time playing pirates, in an ongoing game that would eventually become the play of "Peter Pan" and the little group would go on to form a drama club.
Always fascinated by the stage, Barrie then attended the University of Edinburgh where he wrote drama reviews. After working for a while in England as a journalist, he returned to his home town of Kirriemuir, where he wrote a piece about a town he called "Thrums" (based on his mother's stories of Kirriemuir) for a London paper. The editor read and liked what he called "that Scotch thing" and these became his first novels, entitled "Auld Licht Idylls" "A Window in Thrums" and "The Little Minister".
Barrie was established not only as an author, but a successful author.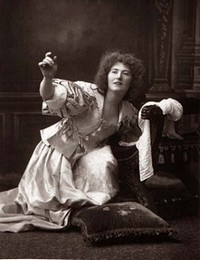 Mary Ansell


Still in love with the theatre he began to write plays, one of his best known being "The Admirable Crichton" which was about an aristocratic family, shipwrecked on a desert island, where the butler takes charge of the situation and the roles of servant and master are reversed. The theatre also introduced him to his first wife, actress Mary Ansell in 1891.
"Peter Pan" himself first appeared in the novel "The Little White Bird", which was published in serial form in the US, then in 1901 as a single volume in the UK. Peter Pan was finally performed on stage on 27th December 1904 and later developed into a novel called "Peter and Wendy". ("Wendy" was actually Barrie's own nickname. His friend, W.E. Henley's daughter Margaret called Barrie "Friendly-Wendy". After this girls began to be named "Wendy").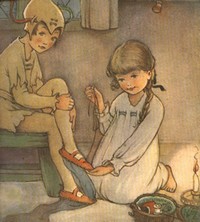 Wendy, sewing Peter Pan's shadow

Mary and Barrie stayed married until 1909 and it was in the cottage he shared with her where he wrote "Peter Pan". Sadly, the marriage seemed more of a companionable friendship than a great romance. When Mary had an affair with one of his friends, Barrie granted her a divorce. Divorce was almost unheard of in those days, and there was some scandal. The couple had no children.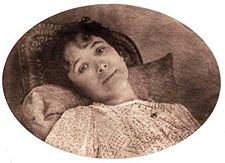 Sylvia Llewellyn-Davies

Barrie had met the Llewelyn-Davies children several years before when the family was out strolling with their nanny. He was in Kensington Gardens with his St. Bernard dog, Porthos, a wedding present from Mary, when they met.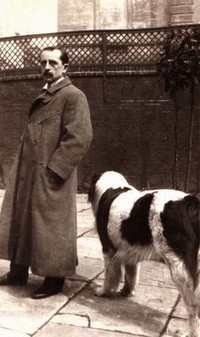 J.M. Barrie with his dog, Porthos


George, Jack, baby Peter, Michael and Nicholas were to become the family he never had, and their characters were woven into his books. Later, and by chance, he met their mother Sylvia, (nee du Maurier and the aunt of famous author Daphne du Maurier)at a dinner party and the two became close. After the death of Sylvia's husband in 1907 Barrie was able to give Sylvia financial assistance from the profits of his plays and writings. The story of their relationship was made into a movie called Finding Neverland and starred Johnny Depp as Barrie, Kate Winslett as Sylvia and Dustin Hoffman as Charles Frohman, Barrie's friend and producer.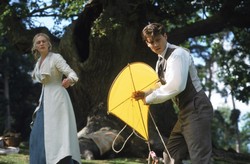 Finding Neverland, starring Johnny Depp and Kate Winslett


Sadly Sylvia was to follow her husband to the grave just three years later, in 1910. After her death Barrie took over responsibility for the boys, going as far as to say that he and Sylvia had been engaged to be married, and that her Will had stated that he was to assume responsibility for their care. He stayed in close touch with the boys through their adolesence and young adulthood.
More tragedy was to follow later, and Barrie lost the two boys to whom he was closest. George was killed in action in World War I. Michael, with whom Barrie corresponded daily, drowned in 1921 with his friend, Rupert Buxton, near Oxford, one month short of his 21st birthday. Peter became a publisher, and sadly he too died before his time, after throwing himself under a train.
Barrie himself was short in stature - he never grew much taller than five feet, and his almost perpetual expression of sadness tells of unfulfilled longings and the wistfullness which was reflected in his writing. There is a certain poignancy in the idea of a boy who can neither grow up, nor return to the real world. Peter Pan can return from Neverland, but only to visit. It has been said that great art comes from deep suffering. The true wonder of this tale is that Peter and his friends have indeed obtained true immortality in Barrie's classic story, living on in the minds and imagination of children in a world where people can fly, life is a long grand adventure, and death never happens.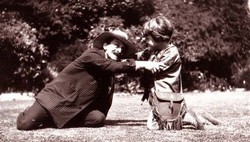 J.M. Barrie playing "Captain Hook" with Michael


Barrie became a baronet and in 1922 and also received the Order of Merit. Even in his old age, Barrie could still play the part of Captain Hook with the son of his secretary, Lady Cynthia Asquith. Barrie was elected Lord Rector of St. Andrew's University and in 1930 Chancellor of Edinburgh University. He died on June 3, 1937.
He was friends with literary luminaries such as Sir Arthur Conan Doyle, H.G. Wells, P.G. Wodehouse,("Jeeves") A.A. Milne (The creator of "Winnie the Pooh") and the son of Alfred Tennyson. He corresponded with Robert Louis Stevenson, although the two never actually met, as Stevenson was at the time living in Samoa.
He was also friends with Antarctic explorer Robert Falcon Scott. Barrie was one of the seven people to whom Scott wrote in the final hours of his life following the doomed expedition to the north pole.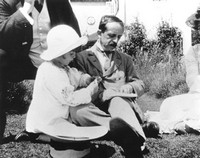 Before his death Barrie specified that the copyright of the Peter Pan works should go to the United Kingdom's leading children's hospital, Great Ormond Street Hospital in London.
You can visit Barrie's house at Kirriemuir, which is now preserved as a museum by the National Trust for Scotland. Kirriemuir is in the county of Angus, close to Dundee and Carnoustie. See map below for more details...