Scotland Ponytrekking Offers Wonderful Companions and Scenery!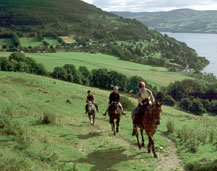 In Scotland, Ponytrekking is a popular activity and has been since the 1950's. Ponytrekking offers a wonderfully relaxing way to enjoy the breathtaking beauty of its countryside, and lessons are always available for beginners. It is especially fun for children...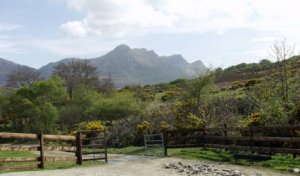 Fell and Highland ponies are often used for ponytrekking in Scotland as well as horses. There are many riding centres catering to a wide range of abilities. The Trekking and Riding Society of Scotland offers a complete list of all these centres. Rare Icelandic Ponies are the ponies of choice of Pentland Hills Icelandics, south of Edinburgh. if you visit Skye, Portree Riding Stables is the place to visit.

By the way, the famous (and adorable!)Shetland ponies originate from the far north of Scotland, the Shetland Islands, to be precise, where small horses lived since the Bronze Age. Although the roots of this ancient wild pony are unknown, they are probably related to the ancient Scandinavian ponies. (The Shetland Islands were once physically connected to Scandinavia up until the end of the last Ice Age, approximately 8000 BC).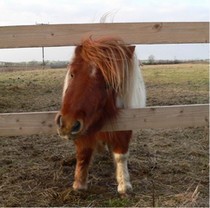 This is "Floss!"
a little too small to ride!
Return to Outdoor Activities....