White Water Rafting and River Bugging - Scotland Style!
White Water Rafting - Scotland!

The rivers are in Scotland are so inviting..it's hard to resist the urge to wade in..swim, skip stones..or just to stay out of them really..
But for those who are adrenaline junkies, it's downright impossible! For those adventurers who fall into this category, then Scotland gives you some splendid rivers to hurtle down! This is the best place in Europe for White Water Rafting and the new and exciting sport of River Bugging...
Here are the "Top Ten" Scottish rivers in order of size...
River Tay 193 km (120 miles)

River Spey 172 km (107 miles)

River Clyde 171 km (106 miles)

River Tweed 156 km (97 miles)

River Dee 137 km (85 miles)

River Don 132 km (82 miles)

River Forth 105 km (65 miles)

River Findhorn 101 km (63 miles)

River Deveron 98 km (61 miles)

River Annan 79 km (49 miles)

Of course there are many more, but the Rivers Tay, Tummel (just north of Pitlochry) in Perthshire and the Findhorn, near Inverness, which empties in the Moray Firth, are all popular white water rafting rivers.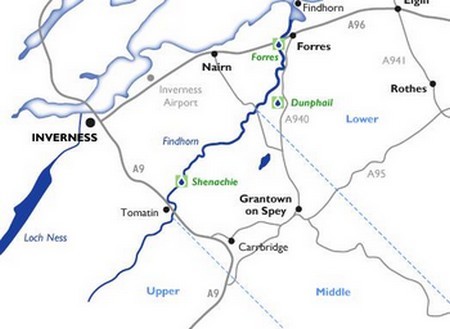 location of River Findhorn


White water rafting is an extremely exciting sport, and like any extreme sport, it can be dangerous. With proper instructions however, and the right equipment and guide, it can also be wonderfully exhilarating. All you need to do to keep yourself safe is to choose your appropriate level. (See details of levels at the bottom of this page).



Many companies in Scotland are out there and available to help you find the best location, take you to the river, and instruct you in the sport of white water rafting. In addition these companies will provide everything you need for the best experience possible, from transportation to and from the site, wet-suits and paddling techniques, to accommodation for longer expeditions. And you won't want to leave!
All you need to bring is your swimsuit, a towel, and your sense of adventure.
You can go for the day or the week, or even a few hours of unmitigated pleasure, and children as young as eight can be permitted to go along, depending on the level of skill needed to navigate the river and the prevailing conditions..
For those of you who are experienced white water rafters, Scotland is one of the best destinations in Europe for your rafting expedition.


RIVER BUGGING IN SCOTLAND
The other variation on a theme that was recently introduced from New Zealand, is the River Bug. The River Bug looks like an inflatable armchair with inflatable chambers behind and beside the occupant.It sounds so strange, a U-tube video is needed to illustrate the technique! Here is one from Ace Adventures...



Weighing only about 7 kilos, with a bit of training they can be easy to maneuver around, and give you the flexibility to pirhouette through the water. The extra cushioning pads you against collisions and altogether the experience can be compared to a thrilling sort of water bound dodgem ride..



Two companies who provide the river bugging experience are Extreme Dreams and Nae Limits.
Splash White Water Rafting provides white water rafting trips on the River Tummel, just north of Pitlochry from the beginning of June through September, although there are folks out there who go white water rafting in the winter...brrr...!
Rafting the River Findhorn, with a breath-taking 18 foot drop into Loch Faskally which is one of the best sections of river in the UK for both white water and stunning scenery, go to www.rafting.co.uk/river-findhorn.htm
This river has the largest recorded flow of water in the UK.

When "classes" are mentioned, I have provided a definition for each one, not to scare you, but if someone tells you the expedition needs Class 6 skills, at least you will know!
Classes One through Six
Class 1: Very small rough areas, requires no maneuvering. (Skill Level: None)
Class 2: Some rough water, maybe some rocks, might require maneuvering.(Skill Level: Basic Paddling Skill)
Class 3: Whitewater, small waves, maybe a small drop, but no considerable danger. May require significant maneuvering.(Skill Level: Experienced paddling skills)
Class 4: Whitewater, medium waves, maybe rocks, maybe a considerable drop, sharp maneuvers may be needed. (Skill Level: Whitewater Experience)
Class 5: Whitewater, large waves, possibility of large rocks and hazards, possibility of a large drop, requires precise maneuvering (Skill Level: Advanced Whitewater Experience)
Class 6: Class 6 rapids are considered to be so dangerous as to be effectively unnavigable on a reliably safe basis. Rafters can expect to encounter substantial whitewater, huge waves, huge rocks and hazards, and/or substantial drops that will impart severe impacts beyond the structural capacities and impact ratings of most all rafting equipment. Traversing a Class 6 rapid has a dramatically increased likelihood of ending in serious injury or death compared to lesser classes.
(Skill Level: Successful completion of a Class 6 rapid without serious injury or death is widely considered to be a matter of luck or extreme skill!)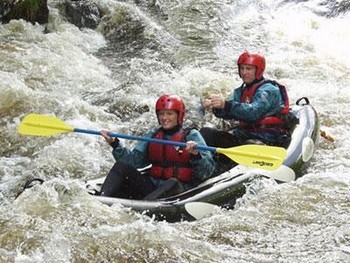 Choose the company, choose the river and then have the time of your life..
You've read the rules, now here's some web addresses to get started!


Nae Limits
Activity Scotland
Dunolly Adventures
Adventure VisitScotland
Bluesky Experiences